The raw material of our grips is high-wear-resistant, colorfast-fasting polyester, which are made in accordance with the European standard MSZ EN 12572-3.
Our company works with professional quality materials, thanks to which our grips have a long service life. They can be used both outdoors and indoors. In terms of their surface, positive and negative grain structures are distinguished. In the Positive Grain Structure, adhesion is ensured by protruding micro crests forming the surface of the grip. Thanks to the positive grains, grip adhesion and wear resistance are extremely good. Thanks to the variety of grain sizes, anyone can choose the one that suits them best.
The surface of grips with negative grain structure consists of tiny pores that absorb the dirt deposited on them (magnesia, rubber). Since the grip with this technology is not provided by micro crests protruding from the surface of the grip, the grip is gentle on the climber's skin. We recommend it for beginner climbers in climbing halls, adventure parks and for professionals to build training paths, but they can also stand their ground as an excellent key grip for professional climbing competitions.
HOGYAN DOLGOZUNK?
Less be az útépítés
folyamatába
Tervezésnél a változatos falstruktúra kialakítására törekedtünk, ,ahol figyelembe vettük, hogy mindenki megtalálja a saját felkészültségi szintjéhez mérten a legideálisabb edzéslehetőséget, szem előtt tartva a későbbi fejlesztési munkálatokat. Helyet kaptak különböző utak, sokszínű fogás-formakinccsel, hogy a mászás még nagyobb élményt nyújtson mindenki számára.
A T-Rock fogásokat M10-es imbuszcsavarokkal kell rögzíteni. Az alátéttel ellátott fogásokat normál imbuszcsavarral, míg más modelljeinket süllyesztett fejű imbuszcsavarral kell rögzíteni a megadott értékek szerint. A tökéletes rögzítéshez használjunk nyomatékkulcsot.

"S"-es fogás: 30-35Nm
"M"-es fogás: 35-40Nm
"L"-es vagy nagyobb fogás: 40-45 Nm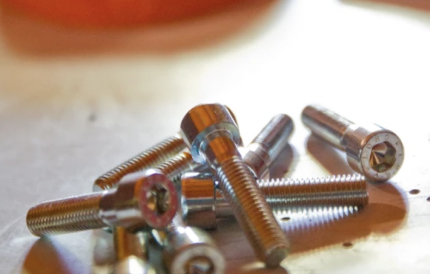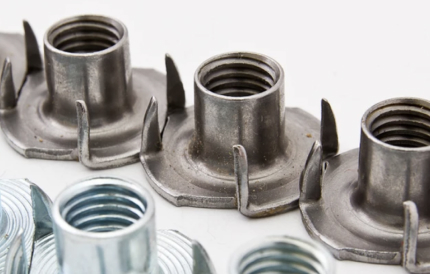 A tőlünk rendelt fogásokhoz a megfelelő csavart biztosítjuk.
A frissen szerelt fa szerkezetű mászófalaknál, a fogások pozícióját rendszeresen ellenőrizni kell az első néhány hétben, mivel a fogások elfordulhatnak!
​
A kisebb méretű fogásainkat fokozott figyelemmel kell szerelni. Helytelen csavarozásnál a fogás megfeszül és eltörhet. Ezek rögzítésére jó minőségű, sűrű menetes torx nyílású facsavarokat ajánlunk, igény szerint megrendelőink számára a csavarokat is biztosítjuk.

A húzódzkodó paneleket, a tréning boardokat ne közvetlenül a falra szereljük, ezeket helyezzük egy legalább 15 mm vastag falapra és ezzel együtt rögzítsük. A szerelésnél, valamint a kötőelemek kiválasztásánál vegyük figyelembe a fal minőségét (tégla, beton).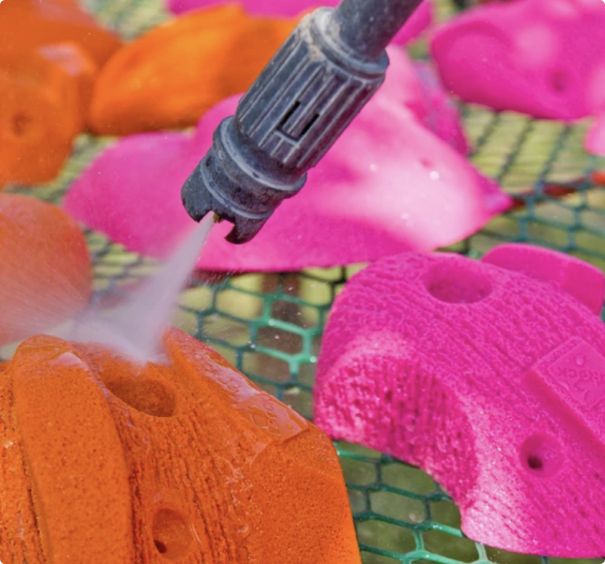 A fogások felületének kialakításánál fontos szempont a könnyebb tisztíthatóság.
Egyszerűen, magasnyomású kézi mosóval vagy egy erősebb kefével könnyen eltávolítható a rárakódott szennyeződés, magnézia, gumi.

Nagyobb mennyiségben vállaljuk fogások ultrahangos tisztítását. Részletekről érdeklődjetek elérhetőségeinken!

A fogások cseréjénél, leszerelésénél vizsgáljuk át a csavarok, kötőelemek állapotát. A sérült csavar, illetve kötőelem nem biztosítja a fogás optimális rögzítését, ezért a fogás elforoghat, ez mászás közben balesetveszélyes lehet.